Welcome to Casa de Joseph....sit down if you dare!
Black, Purple, Grey, White and Gold theme this year.
The pass through, not my favorite thing.
Big Daddy J got this for me at an estate sale.
On top of the credenza (we store vintage liquor bottles in there so little hands cant touch)
The spiders and quick little buggers...the eyeballs are the kids favorite! My 3 year old always asks for 1 of Elmo's eyes (oooooo not good) lol
Skeletons and spiders....oh my!
Unfortunately I had to move the water cooler in the dining room to fit my fabulous black hutch, so we are including it in the holiday decor. lol
Crows, cobwebs and corbels
The buffet area, its been downsized in accessories, but I have to add more as time goes on.
This is just a little centerpiece that will hold spooky treats.
Last but not least, the dishes that my husband bought me weeks ago. I will be doing something different with them soon but, they were still in the box and I didnt want him to think I didnt like them.
So it will still be tweaked at least 6-7 times before Halloween but I have to get started early around here because we have back to school nites for 4 children at 3 different schools. I have my tent show on the 18th. Im also having a Sweet Sixteen Tea Partly (with a twist) for my daughter in 2 wks. Then my husband is in a wedding of friends the weekend after that. Then pumpkin picking.....So probably somewhere the 1st week of November I should get some rest! lol
Linking up as always:
http://niagaranovice.blogspot.com/
Artie @ Color Outside the Lines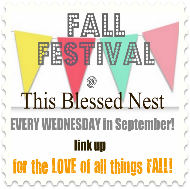 Kellie's Fall Festival @ This Blessed Nest
Becca @ Blue Cricket Design