I thought I would share some of the decorations that are up but probably will be tweaked before October...lol
This is the kitchen counter where I sometimes blog as well. I've had that glass pumpkin for over 10 years and the top broke last year with packing it up. so this year my daughter suggested I use the apothecary jar top. Nice to see her design potential..lol
The scarecrow guy was my grandmothers, I love to have pieces that belonged to her in my home.
The chalkboard I made myself my spray painting the bottom of a mismatched wood puzzle black. Ta da instant chalkboard.
My kitchen glass trio....I emptied out my garlic and onions for some chestnuts and orange slices..yummy!
This is the bottom of our fireplace...I love this little candle holder, dont remember where I got it but its old.
A toile tray that I spray painted black (duh..i know) and some acrylic acorns on a wooden tray set from Thailand. This all sits on my ottoman which is draped with a burlap feed bag.
This is a side table in the living room...amber vase villed with brown rice and vanilla candle.
Vignette on the mantle....ceramic pumpkins and a glass cylinder filled with mixed beans.
Left view of mantle, burlap banner runs across...working on hiding that equipment soon.
Right side of mantle...
New wooden lamps with old candle and pumpkin. The decanter is filled with oats and tied with rustic twine.
My newly created cloche inspired by Marty in the kitchen hutch.
My spooky dining room vignette....branches from the local park spray painted black....candle holder is actually an empty can of beans sprayed black.
I love to decorate for the REAL home and the REAL family. I use items like rice, dry beans, oats, vegetable cans, formula cans and make my own home accessories. It may not be everyones taste but I like it just fine.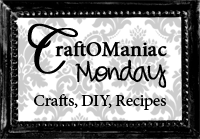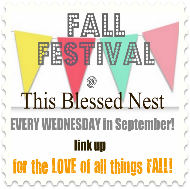 Linking this up to Cottage and Vine
http://cottageandvine.blogspot.com/