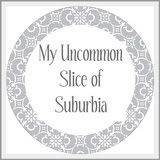 Kristen is doing some great posts on organization so I wanted to feature it here, because we all can use some organization from time to time.
As organized as I think I am, Ive recently realized that I have a ton of junk drawers! So even though I keep the majority of the house clean,decorated and organized, its those junk drawers that hold back all you clutter.
Sorry ladies I will definately not be posting my junk drawers on here, but hold tight you might be seeing them very soon. (hint)
This was the message center before baby #5 but everyone in the house has a clipboard. Mine of course is the one on top with the 20%BBB coupon (woohoo). But this is where dr notes go, artwork for my preschooler as well as the old cabinet that was on the right. I like this system because its all there in front of me, its right of the kitchen and when the kids hang their backpacks right where Im standing taking this shot. All their paperwork goes on their clipboard...I then fill it out save what I need and then call them to put what needs to go back to school in their backpack.
I'm definately no shining example or organization, so go over to see Kristen http://myuncommonsliceofsuburbia.blogspot.com/2010/09/conquering-clutter-of-incoming-mail-and.html and check out what she is doing to keep things in order.
Have a wonderful organized chaotic day!!!