Im living in a rental home for the next year or so until we decide on a move destination. I love the little house we are in, but miss my little farmhouse. Especially my big wooden front door and old porch.
This is our new front door, almost ready for fall.
This is a project I made for FREE and love how it came out so it went on the porch right next to the door.
Another shot of the door area, not bad but I can do better. The door to your home is very important, it's what your neighbors look at all day. It's what your friends and family see when they come and visit. Im a fanatic about keeping the finger prints off the door (I have 5 kids...tough job), for some reason kids dont like using handles they push the glass. lol
Im joining Kristin over at My Uncommon Slice of Surburbia today for her Front Door Reveal (so classy) and a linky party. Here is her link
http://myuncommonsliceofsuburbia.blogspot.com/2010/09/front-door-reveal-and-link-party.html
.......go on over and knock on her door.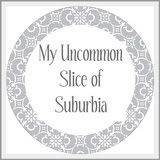 "/>
Just for memories sake, this is a photo of the old farmhouse porch (look at the sloping roof). This was in March when my husband was due to return home from Iraq (hence the big Welcome Home Banner). This was the 1st home I owned......
Liberty Street Home
This is the porch I dream of having one day.
Have a great day everyone!