So lately Ive been bravely sharing my
secret love for junking
here on my blog. It's not as popular up here in the Northeast. Only old men in pick ups drive around looking for scrap metal up here. But Ive been brave and Im now coming out to you all. Anyone who knows me in my world knows that I'll do a drive by the night of
yard sales
and night before bulk pick up. I also scour Craigslist for FREE finds as well as small tickets items...and Ive been extremely lucky.
My house is literally created from Craigslist items!
I dream of owning my own brick & mortar shop one day but until them I love Etsy and Facebook to showcase my creations. Im going to share with you items that are new to the shop and some that haven't even been listed in Etsy yet. Some have found a place in my heart and my home too.
They're made from
old, vintage, junk items that I've repurposed
or just tweaked in my own little way to give it that Lucky 7 style.
Wall Hook Set w/vintage hardware
Shabby'd switchplate created by me for Etsy shop
Distressed white shelf brackets
Vintage beverage box from PA
FREE Craigslist chair (thank you Peggy)
It's a home in this corner with other CL finds like the elephant table and vintage birdcage.
Solid Brass candlesticks from yard sale
Perfect on this vintage cart displaying old tin serving trays and 20+year old Lenox platters.
Another CL find...Vintage sewing cabinet paired w/ old makeup case (Peggy again)
Joining these fabulous parties this week: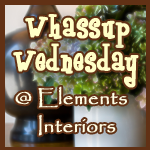 src="http://i951.photobucket.com/albums/ad357/NoMinimalist/houseart.jpg" border="0" />
src="http:>