Okay so I have 5 kids and we are a family of 7! This year we started doing some shopping at Costco's (bulk shopping whse) and its been working out pretty well. However, my husband is addicted to shopping at Costco as I am to HomeGoods,Marshalls's,Lowe's ummmmm well you get the point. That man will put anything in the cart because he thinks he's getting a deal (kinda what I say to him to explain my shopping excursions..lol)
To the point of this blog now. I had over 6 pounds of ground chuck meat in the freezer, because my sweetie didnt separate it when he brought it home. So after defrosting it, I had to use it all....thats alot of meat. I decided I would make my chili that he likes so much and the kids do too so its a win, win for me. The other situation I had is that our friends daughter (and my 9yr old BFF) was sleeping over and I needed to feed these children. They were swimmimg all day then her dad picked them to go to do a craft a her local library so I thought I would keep the fun going when they returned.
Here's where my bad memory comes into play....I was blog hopping (Im addicted) and came across a recipe but I cant for the life of me figure out who's blog it was. Im thinking I found it through Erika from Crafter's A.D.D (it might even be hers) I feel really bad but I can remember to give credit. The recipe is for MEATLOAF CUPCAKES!!!! I know what your thinking....
We are always making cupcakes in this house, my daughter Gabriella (15) is an aspiring pastry chef and is always making cakes and cupcakes and its great fun for the kids. So I thought I'll trick them and I prepared it all while they were swimming. (hehehe)
The recipe is just your basic meatloaf ( i use meat, eggs, bread crumbs, lipton onion soup mix, ketchup, salt, pepper) mix it all together. Then basically grab your muffin tins, line them with cupcake liners and fill them with meat (???) lol Bake at 375 for approx 30 minutes...we like ours well done.
(Excuse the bottom of the oven, mishap from night before...its on my weekend chore list. Dont think even my self cleaning oven can handle that.
Cooked cakes (foil liner probably wouldve held the shape better, but papers what I had on hand)
For this occassion I used boxed instant mashed potatoes (make as directed). Then put the potatoes into a ziploc bag and cut the corner. When the meatcakes are done, just pipe on the potatoes in a swirly circular pattern (like soft icecream cones)
For added appeal, I shredded up some cheddar cheese and placed it on top for sprinkles (my 3 year old helped with this task). She really thought that I was making cupcakes. lol
And now.....Dinner is served.......Meatloaf Cupcakes, Mashed Potato Frosting and Cheese Sprinkles!!!
My most important critics were Neen and Taz (as there known in this house)....I asked them if it was a thumbs up or thumbs down. And their response was (drum roll please.........)
Big Daddy J's dinner was the chili (below on the stove) and 1 of the cupcakes I smuggled from the kids!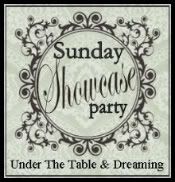 Im linking this up with
Stephanie @ Under The Table Dreaming
. Check her party and blog out....you will wonder for ever over there. lol