Just a few short weeks ago I revealed some of my new bedroom (it was formerly the babys nursery) we gave up our bigger room for her to have a bigger room and also to have a napping bed for my 4 year old downstairs.
I so generously let me husband choose color scheme in the room after I chose the paint color Valspar Silver Leaf. Our antique furniture is already painted an antique white and it has black metal knobs. You all know this by now....he is from the islands more specifically The Commonwealth of Dominica and loves bright colors. Especially the ones in his flag green, yellow, red.
Very bright colors
This is how it turned out...I love the yellow but from the beginning it was working for me. I designed an Olio board with yellow/gray/white and it was fabulous.
Somehow my bedroom just wasn't doing it for me, so this weekend I did some rearranging and came up with a whole new Romantic look which is how I think the bedroom should be anyway.
It's a more neutral color palette....that fabulous oatmeal colored bedcover brought some warmth to this space.
I havent been able to find a dress form anywhere.....so whats a girl to do. Make you own, well kinda. I used a store mannequin form and covered it with ripped up pieces of dictionary pages. I call her my Book Work Muse! lol
My side of the bed...a little sweet vignette of vintage goodies
My book worm wanted to wear her collection of pearl necklaces just for you today
My mercury glass bird candlestick...bowl of creamy lovelies...vintage Bingo card and a silvery wallet
Creamy ribbon, rosette, linen strips with a Christmas ball in a glass bowl what a simple sweet accent
I had this moden Ikea gallery shelf already in place (couldnt move it) so I worked with it. I added a HUGE vintage tray I got for FREE, some photos of me and my love. I also added 2 sweet plates I purchased almost 2 years ago on Ebay. They have silver and gold accents. The oval mirror is a Home Goods find from 2008 while hubs was in Iraq. Part of a homecoming makeover.
I had these silvery curtains from Kmart and I used a white Pier 1 square tablecloth and tacked in underneath to give more layers. I had to keep my Michele Beschen (B.Original) junk art from my appearance on Nate show)
This is my dresser (yes you can see it's primed but not finished) Im working on it. lol
Above is my mini wall of mirrors. Ive had these for years and they've been everywhere. I also display all of my vintage jewelry (most of my grandmothers) on homemade stands from vintage plates and glass candlesticks.
Redesigned Craigslist lamp with new pleated HomeGoods shade. My loves dogtags are always on his nightstand.
My husbands dresser...of course I had to put away all of the change and receipts that he leaves on top. lol
A photo of us from The Marine Corps ball back in 2005
Pages of a dictionary and a rosary made of rope
Here is a view of from the foot of the bed. I want to do some tweaking still but not sure with what..maybe a chandelier over my muse on the left...
Vintage pillow case coverlet it was my grandmother's...she sewed the 2 pieces together at some point I think
They say Amor Mio and they are so beautiful and soft.
Here is a closer photo of the window wall
Here is the closeup of the junk art....Michele took everything in my kitchen junk drawer and turned it into this. You can see scissors, craft paint, letter magnet, screws, a baby thermometer. lol
I didnt buy anything new for this space for this redesign, however the bedspread you see is new. I purchased it last week to use as curtains in the living room. Do you wanna know what it really is..........a painter's drop cloth! Yep, that sucker only cost $9.99 from Lowe's and it's the medium size one and fits my queen size bed. I washed it HOT water twice and dried it with fabric softener sheets. It is so awesome and it has an oatmeal color to it which goes so well with the white & gray. So now my color scheme is more warm, creamy and oh so romantic.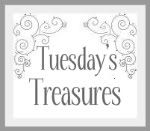 SHOW AND TELL FRIDAY @ MY ROMANTIC HOME