My DR focal wall, crosses always stay....An assortment of black & white vignettes was created to be festive and functional for upcoming parties.
Took the vintage bird cage from the nursey and the crows love their new home...oh well at least the one who survived the rest. muhahahahahaha
Small vignette of glass containers filled w/ vintage spool of black thread with pins in it. Other filled with black crow feathers, some pearls and some antique bling.
My DR inspiration, bottle of Jack...two martini glasses with some special additions...a bible,flask and fuzzy creature all on a vintage toile tray painted black
My 3-tier ivy dessert stand that was painted black many moons ago with off white plates and a black pumpkin for fun.
My prize vintage bar cart decked out with some gross creatures.
Apothecary jars, glass bowls, glass candlesticks and a mercury glass candlestick all add some vintage spooky flare.
My favorite trellis black/cream curtains (Lowe's) w/ my Martha Stewart find of the year garland. Some dangling spiders and my handmade spook board from last year.
My mirror/altar wall with antique frames w/ metallic finishes (I plan of possibly painting black and leaving there forever) Over the top of the mirror hangs a vintage scroll from a piano player...the song is "Alley Cat"
So cool how you see the impressions and the words to the song next to it! I have a bunch of these going into the shop!
My Willow House sconce has been invaded by a fuzzy friend
The think this crow likes being King of the Cage..
Where have all my little crows gone????
Scary isn't he
Only purchase made (and it was last year after season) $1.00
Few Updates (C'mon it's me...you know by the time I upload, write the post and launch it something has already been added or changed.
My handmade tissue paper/coffee filter garland
I chose to do white tissue paper instead of the doilies.
I relocated the spook board and the mercury glass candlestick to create this little vignette in my kitchen/dining room pass through window. Huge apothecary jar filled with mini skulls and a hungry crow.
A few changes to the vintage bar cart...notice the picture in the mirror frame...it's from last year's Halloween mag and I loved this women's home because she doesn black & white or creams like me! I also stole a few pieces to relocate in the room.
Going to the following parties: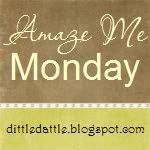 ""/>