Yep...that's right Im over at Stephanie Lynn's today on
Under the Table and Dreaming
. I love the name of her blog and I started following her last year when I first entered the world of blogland. lol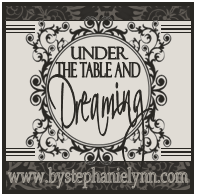 Her blog is filled with beautiful pictures and endless information. Her sidebar is loading with fabulous tutorials and her sense of crafty style is just like mine. She recycles, reuses and repurposing everything under the sun (or table) lol
I join her Sunday showcase party as much as I can and I was actually lucky enough to be featured, which was a huge compliment.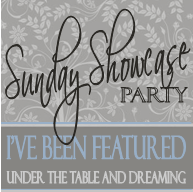 I've actually won a few giveaways on her blog, she has THE BEST giveaways! Be on the look out!
Stephanie Lynn is a modern day Superwoman, if you have the chance read her "About Me" section on her blog. You will find that we have more in common than crafting, thrifty and home decorating addiction. We both have children that are diagnosed with
Autism
. I find it inspiring that she can do all that she does and the ideas that she shares come from creating a loving, thriving enviroment for her son. His sensory playroom is somewhere I would like to hang out!
I hope you will all come on over today....Im sure you are already a follower but if not I highly recommend her page to you. You can also
LIKE
her on her
UTTD Facebook Page
As a huge thank you to Stephanie Lynn and her fabulous readers.....I have a few surprises! So go on over and see what we have got for you!
THANK YOU TO STEPHANIE LYNN FOR FEATURING ME ON HER BLOG TODAY......it's an amazing compliment because she inspires me everyday through what she shares.
*****Don't forget today is the last day of the BIG Annie Sloan Chalk Paint giveaway hosted by House of Anne. You can enter HERE****